1. The Three-Skilling Yellow
The Three-Skilling Yellow, adalah prangko salah cetak terbitan pemerintah Swedia yaitu pada cetakan pertamanya tahun 1855. Dimana prangko normalnya saja (yang seharusnya berwarna biru-hijau) juga termasuk prangko langka. Three-Skilling Yellow adalah salah satu prangko terlangka dan hanya satu-satunya yang tersisa. Tahun 1984 prangko ini terjual seharga 977.500 Swiss francs oleh David Feldman. Tahun 1990 penjualan mencapai angka satu juta dolar US, kemudian tahun 1996 terjual seharga $2,3 juta atau sekitar Rp. 21,85 milyar. Dan setiap kali terjual selalu mencetak record angka tertinggi sebagai sebuah prangko termahal di dunia.
2. The first two Mauritius
The first two Mauritius stamps (1847) adalah dua seri prangko pertama yang diterbitkan pemerintah kolonial Inggris. Hanya tersisa satu buah prangko pertama dengan kondisi unused dan tiga buah prangko kedua juga dengan kondisi unused. Tahun 1993 David Feldman melelang prangko Mauritius milik Hiroyuki Kanai menghasilkan record tertinggi. Prangko pertama yang berwarna orange terjual seharga $1,072,260 atau sekitar Rp. 10 Milyar lebih dan yang kedua seharga $1,148,850 juga sekitar lebih dari Rp. 10 Milyar
3. The inverted Jenny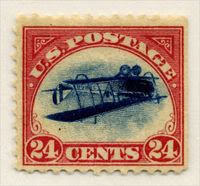 The inverted Jenny adalah prangko Amerika tahun 1918 bergambar pesawat Curtiss JN-4 dan secara tidak sengaja tercetak terbalik; ini mungkin adalah salah cetak paling terkenal di dunia filateli Amerika. Hanya 100 prangko salah cetak yang tersisa, membuatnya menjadi salah satu prangko salah cetak paling berharga; Satu blok penuh prangko inverted Jenny terjual pada lelang Robert A. Siegel bulan Oktober 2005 seharga US$2.7 juta. Dan bulan November 2007 sebuah prangko inverted Jenny terjual seharga US$977,500 (Rp. 9 Milyar). Desember 2007 sebuah prangko mint (unused/belum terpakai) dengan kondisi baik sekali terjual kepada seorang eksekutif Wall Street seharga $825,000 atau sekitar Rp 7,8 Milyar.
4. British Guiana One Cent Black on Magenta
British Guiana One Cent Black on Magenta (1856) adalah termasuk prangko terlangka dan termahal. Prangko dicetak di atas kertas kualitas rendah berwarna magenta dengan tinta hitam, dikarenakan kondisi darurat. Diketahui hanya ada satu buah yang tersisa di seluruh dunia, jadi prangko ini unik dan tidak ada lainnya lagi yang pernah ditemukan. Tahun 1980 telah dilelang kepada John Dupont seharga $935,000 atau sekitar Rp 8,8 Milyar.
5. U.S. Franklin Z-Grill
U.S. Franklin Z-Grill, 1867. Ini adalah prangko terlangka dari semua prangko Amerika Serikat, hanya ditemukan 2 buah yang masih tersisa. Tahun 1988 sebuah prangko "Z-Grill" 1 cent tahun 1868 terjual seharga $930,000 atau sekitar Rp 8,8 Milyar.
6. Hawaiian Missionaries

Hawaiian Missionaries, 1851 adalah prangko pertama Hawai. Karena "Hawaiian Missionaries" dicetak secara kasar dengan kertas yang tipis dan berkualitas rendah, hanya beberapa prangko saja yang berhasil diselamatkan dan merupakan prangko yang sangat langka. Nominal terendah yaitu 2 cent tahun 1851 adalah yang paling langka dari keseluruhan seri, dan hanya tersisa 16 buah. Sebuah prangko Missionary 2 cent dengan kondisi mint (unused) seharga $760,000 dan kondisi used seharga $225,000.
7. The Penny Black
The Penny Black, adalah prangko berperekat resmi pertama di dunia, diterbitkan Pemerintah Inggris tanggal 1 Mei 1840 dan mulai digunakan tanggal 6 Mei. The Penny Black sebenarnya bukanlah prangko yang langka tetapi termasuk prangko termahal. Total cetakan 286.700 lembaran cetak dengan 68.808.000 prangko. Sebuah prangko Penny Black unused (belum dipakai) menurut katalog Scott tahun 2001 seharga $3,000 atau sekitar Rp. 28.500.000,- dan used (sudah terpakai) seharga $180 atau sekitar Rp 1.700.000,- selembarnya.

sumber: http://haxims.blogspot.com/2010/01/7-perangko-termahal-di-dunia.html